Books by Rev Daniel Ahia-Armah
Dr. Armah has so far authored six (6) powerful inspiring books with a readership fan base dotted around the globe. These books are: "VICTORY TECHNIQUES'', "GOLIATH CAN FALL", "RIDING THE WINDS OF CHANGE," STONE SEAL & SOLDIERS'' "SEVEN EFFECTS OF PRAYER" and "THE VISITATION OF THE LORD''.

To order copies of these books call (602) 366 5326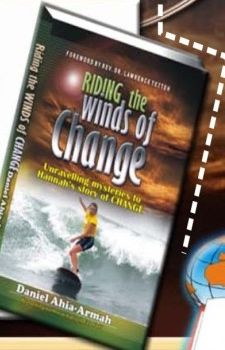 Overview of RINDING THE WINDS OF CHANGE
Generally, life is seasonally punctuated with opportunities for success, development and establishment. Such opportunities come in diverse forms but when properly utilized leads to a single destination of success and fulfillment.
It may be one good job, a big contract, an unusual exposure, a great link to somebody special, marriage to a perfect partner etc.
The various opportunities that come our way are the winds of change that blow across our lives. Such winds are strong enough to carry an individual from one level of accomplishment to the other. It is a status-changing wind with a story-changing power.
The winds of change are initiated by God, the source of all changes. In fairness to all humanity, life's opportunities come to everyone irrespective of gender, race, colour, creed or background.
Everyone at least in a lifetime gets a taste of an opportunity to advance into greater heights. Some of the opportunities may be golden, representing the best size and the depth of opportunity. Others may be silvery or "bronzy" etc. Irrespective of the size however it takes proper utilization of the opportunity for it to become beneficial.
This book "RIDING THE WINDS OF CHANGE" takes readers into a journey of life's realities and step by step approach to strategic positioning in our bid to see change in our lives.
Adopting the simple but significant story of Hannah, this book endeavours to juice out great principles of change from the Holy Scriptures. Whilst tracing Hannah's path to change from barrenness into a fruitful mother, this book gives you invaluable lessons and methods needed to see the evolution of change.
If there is any book that can practically help you bring positive change to your life it is RIDING THE WINDS OF CHANGE. It is also a must read book for all who are looking for the fruit of the womb. The nuggets in this book will blow you away, the revelation is awesome, the insight is deep, the information relevant and gripping. This is a page turner and a life changing presentation.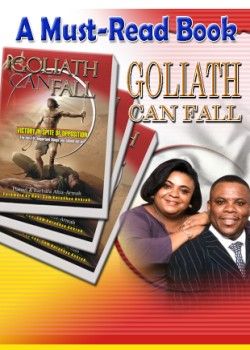 "Goliath can Fall" is an in-depth study of I Samuel 17. This famous story popularly known as "David and Goliath" vividly portrays the rise of the underdog, David and the fall of a champion called Goliath. The author stumbled upon a revelation of ten mistakes that Israel committed in the valley of Elah during this Great War.
As a successful battle strategy, the above-mentioned mistakes are called don'ts. These don'ts are thoroughly and beautifully discussed in ten elaborate chapters that is simply mind blowing.
This story brings a strong message home; everybody can rise from nonentity, obscurity and down the valley into a victorious superstar. This can happen in a twinkling of an eye! There are principles in this story that will shock and shake you; not only that it will establish you as a winner in all situations. Every "Goliath" in your life is about to fall. God will teach you ten (10) things you should not do for this to be possible.
Come now let us feast on the word of God!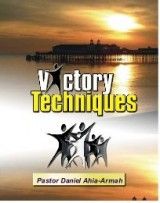 Review of the book Entitled "Victory Techniques"
Authored By Rev. Dr. Daniel Ahia-Armah
Reviewer: Dr. Vanessa Tetteh, a freelance writer, editor, trainer and lecturer, the host of 'Rebuilding Talk Time', a Christian programme which airs on TV3."
For whatsoever is born of God overcometh the world:and this is the victory that overcometh the world, even our faith. (1 John 5:4)